Vade Recognized by G2 as a Leader in Email Security and Cloud Email Security
Vade
—
December 22, 2021
—
1 min read
Vade named a leader in the G2 Grid® Report for High Customer Satisfaction and Market Presence
Lille, France – December 22, 2021 – Vade, a global leader in AI-based threat detection and response with one billion protected mailboxes worldwide, announced it has been named a Leader in the G2 Grid® Report, Winter 2022, for both Email Security and Cloud Email Security.
G2 is a software marketplace that helps more than 5.5 million people make smart software decisions based on peer reviews and data aggregated from online sources and social networks. G2 Crowd's quarterly G2 Grid® reports highlight the top rated software solutions as chosen by customers. Products in the leader quadrant are rated highly by G2 users and have substantial market presence.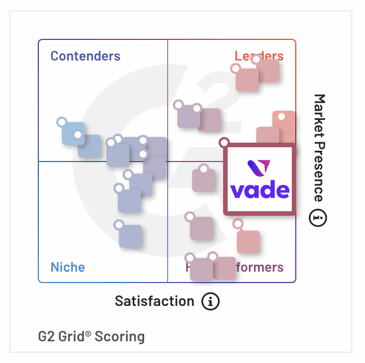 Read the Grid® Report for Cloud Email Security | Winter 2022
Vade for M365, an integrated threat detection and response solution for Microsoft 365, combines artificial intelligence and human expertise to detect unknown threats and dynamic attacks that other solutions miss. Purpose-built for MSPs, Vade for M365 helps MSPs operationalize managed security with integrated, no cost features, including automated phishing awareness training, multi-tenant incident response, and auto-remediation. Vade Cloud, compatible with Microsoft Exchange, Microsoft 365, Google Workspace, and Zimbra, is a cloud-based email security solution powered by the same AI-engine as Vade for M365.
"Our partners are the core of our business," said George Lotigier, CEO at Vade. "We're honored to be rated so highly by our customers. Being recognized as a leader by G2 validates that our focus on our partner community is key to our success. We're committed to providing our MSP partners and SMB and enterprise customers with best-in-class threat detection and response solutions that secure the highly volatile Microsoft 365 environment."
Request a demo of Vade for M365
About Vade
Vade is a global cybersecurity company specializing in the development of threat detection and response technology with artificial intelligence. Vade's products and solutions protect consumers, businesses, and organizations from email-borne cyberattacks, including malware/ransomware, spear phishing/business email compromise, and phishing.
Founded in 2009, Vade protects more than 1 billion corporate and consumer mailboxes and serves the ISP, SMB, and MSP markets with award-winning products and solutions that help increase cybersecurity and maximize IT efficiency.
To learn more, please visit www.VadeSecure.com and follow us on Twitter @VadeSecure or LinkedIn https://www.linkedin.com/company/vade-secure/.