ISO Certification
Vade has a great Trust Program, but you want external validation. We understand. We validate our program annually with a third-party audit to ensure we adhere to the highest standards. The third party will test our operations, procedures, policies, and controls to independently validate they are designed and operating effectively.
Our commitment to information security standards
Information is an asset, and access to it must be managed with care to ensure that confidentiality, integrity, traceability, and availability are maintained.
As a company specialized in the development of security software, Vade is a prime target for hackers who want to bypass the protection measures of Vade's customers. Vade is therefore committed to protect its solutions in compliance with the best practices in the sector and the best technical cybersecurity protections so that Vade can offer the highest level of security to our customers.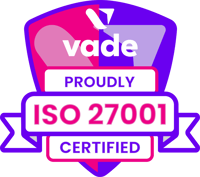 Vade is ISO 27001 certified
Vade's ISO 27001 certification is proof of Vade's information security maturity and compliance to standards, regulations, and best practices. Through this esteemed, globally recognized certification, Vade demonstrates that it meets the standards of international best practices for information security management and guarantees to our customers and partners that Vade is safeguarding their data.
What is ISO 27001?
ISO 27001 is an international standard for information security, based on a framework that helps organizations develop a process for establishing, implementing, operating, monitoring, reviewing, maintaining, and continually improving their information security management system. ISO 27001 certification is achieved through a rigorous verification process through an accredited certification body.
AFNOR is an independent ISO/IEC 27001 certification body accredited to perform ISMS 27001 certifications that found Vade to have technical controls in place and formalized IT security policies and procedures. Vade has implemented several security measures and countermeasures that protect it from unauthorized access or compromise, and our teams were found to be conscientious and knowledgeable in best practices.

NF EN ISO/IEC 27001 : 2017 (Europe) - ISO/IEC 27001 : 2013 +
COR 1 : 2014 + COR 2 : 2015 (International)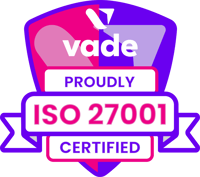 Vade demonstrates a high level of responsibility for the security of its data and its information systems and a commitment to reach a level of excellence in operational security as well as in the governance of its security. Beyond a corporate image of respectability, it is a corporate duty, a moral responsibility, and a profound commitment to our customers and partners.