Research has shown that there are 78 million SMB users—or seats—in the US market, each with an average technology spend of $5,000 annually. This adds up to a market opportunity of nearly $400 billion for channel partners. Furthermore, over nine million of these seats are capitalized in the XaaS ("everything as a service") model, combining hardware devices, software, cloud solutions, and technology services.
This creates a potentially complex delivery model, but it's an opportunity that's too big for partners to ignore. The XaaS market is growing by double digits each year as more SMB companies adopt this new model of technology consumption.
The key to speeding adoption, then, is to streamline and simplify this process, allowing partners to more easily monetize per-seat services across multiple SMB end-customers via an intuitive, consolidated platform. Hosted services can include comprehensive cybersecurity solutions, creating an effective, layered approach to security for small business customers. This would also include predictive email defense solutions from Vade Secure, addressing ransomware, malware, phishing, and other threats.
In addition to security, this model can deliver services in categories such as unified communications, remote access, collaboration, cloud-based storage, data migration, and web-based services, built around cloud solutions from vendors such as Microsoft, Cisco, and Dropbox.
Services can be offered in bundled packages that also include hardware, software, and solutions that address specific vertical environments and trends, making it that much easier for MSPs to market to end-companies. For example, partners can tailor a remote work bundle including laptops, licensing for collaboration products, enhanced security solutions, and add-ons like laptop cases and surge protectors. These offerings can increase recurring revenues for partners, plus carry higher margins than hardware-based sales, and payments can be aggregated over time via a subscription model.
How D&H helps partners capture the XaaS market opportunity
D&H Distributing has introduced a sales methodology called "Monetizing the Seat" to help partners capture the full extent of the XaaS opportunity in the SMB market. The company provides assets, tools, and support to make it easier for partners to make a more comprehensive transition to a managed services, or XaaS, model. The offering includes:
A cutting-edge Cloud Marketplace transactional portal to operationalize and deliver XaaS solutions through an intuitive, user-friendly platform, while providing business intelligence data to help partners target market opportunities.
A configuration tool and a team of experts to help partners design, market, and sell compelling solutions in a "per seat" model.
Flexible financing options featuring a monthly subscription payment that can accelerate cash flow in the form of advance payments to partners.
A modeling tool that helps partners understand the long-term financial benefits of the XaaS model.
Supplemental service delivery, including access to D&H Solutions Experts, bundled offerings targeting vertical markets like education, and pre- and post-sales support to promote the partner's success and maximize profitability.
Partner benefits of "Monetizing the Seat"
Per-seat monetization presents an array of benefits for channel partners. These range from greater scalability; to consolidated invoicing of hardware, solutions, and services; to additional upsell opportunities and strengthened customer relationships. This model will help meet demand as the market continues toward digital transformation—which has only been accelerated by 2020's mandates to create viable teleworker, distance learning, and telehealth environments in the wake of the pandemic. The Monetizing the Seat sales model can:
Provide measurable and actionable metrics to drive growth.
Create a scalable sales methodology to generate add-on/upsell opportunities.
Offer enhanced end-customer value by facilitating comprehensive, turnkey solutions through a single partner and a consolidated platform.
Increase revenue by attaching new services to an existing opportunity.
Raise margins due to attached services, while accommodating smaller monthly payments.
Allow partners to capture potential hardware refresh opportunities through predictable lifecycle management.
Lower cost of support services through standardized hardware fleets that are consistently managed and updated through the cloud.
End-user benefits of the XaaS model
Similarly, XaaS presents a roster of advantages for the end-customer, especially in the SMB space, making it a win-win for the channel. Benefits include:
Access to cost-effective, powerful enterprise technology for SMBs.
Monthly payment options for a predictable cost structure.
A scalable and flexible workforce growth model.
Tax benefits, since costs are assigned as an operating expense versus capital expense.
An "always updated" environment, automatically incorporating the latest SaaS subscription technology refresh cycles.
End-to-end lifecycle support and service, which lowers IT costs while enhancing performance.
Enhanced security through standardization and policy control.
Easier planning and procurement, resulting in greater visibility of IT costs.
The Vade Secure opportunity through D&H
A key element of D&H's cloud strategy is our unique approach to solution design, which we call "Cloud Clusters." All the technology vendors included in our Monetizing the Seat model must technically integrate with a foundational product and add end-user value, while making it easy for our partners to sell and support the entire solution "Cluster." The hottest-selling foundation product in the SMB market is Microsoft 365. End-user demand is high for Microsoft 365, which facilitates best-in-class office applications through powerful cloud services. But the benefits of the Cluster concept don't stop at Microsoft 365.
Enter Vade Secure: Small businesses are more concerned than ever about security and compliance, but these foundational platforms were not designed to provide the complete solution on their own. D&H chose to partner with Vade Secure to deliver predictive email defense, protecting Microsoft 365 users from advanced email threats including phishing and malware.
In addition to serving as a critical component of the D&H Microsoft 365 Cloud Cluster, Vade Secure's solutions help our channel partners create a competitive differentiator and increase total profitability, while adding customer value through critical, effective cybersecurity, including through the use of sophisticated AI-powered filters. Vade Secure is the perfect AI-based security solution for partners to attach to Microsoft 365 and fully Monetize the Seat.
To learn more about how D&H and Vade Secure can help partners deliver a range of XaaS solutions, please visit www.dandh.com/cloud or email CloudSolutions@dandh.com.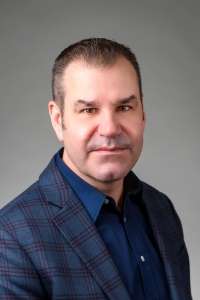 Jason Bystrak
Vice President, Cloud Business Unit

Jason Bystrak began his tenure at D&H in 2019 to oversee the distributor's Cloud Business Unit. He has more than two decades of experience in channel and cloud-based services, including his most recent position as Vice President of Worldwide Channels & Distribution for Axcient, a frontrunner in cloud based data protection solutions. He has also had considerable experience overseeing cloud programs for a major channel distributor. Jason drives D&H's strategy for cloud and managed services, including expanding the company's internal team and building relationships with cloud service providers for the distributor's evolving digital commerce platform. His expertise in the channel has been in high demand at various panels, roundtables and event appearances throughout the industry. D&H's Cloud Business Unit is a crucial part of the distributor's Solutions and Services program, which delivers end-to-end enablement resources to channel partners.