Cross-Tenant Incident Response Tools for MSPs
The business opportunities from cybersecurity are causing MSPs to pivot toward managed security services, but managing cybersecurity for a range of clients is time-consuming and full of complexity. MSPs need incident response tools that are easy to use and provide cross-tenant capabilities.
Build a scalable managed security service for Microsoft 365
Responding to incidents and remediating email threats targeting Microsoft 365 is a full-time job that costs MSPs time and money. MSP Response provides unified threat management and incident response tools in a cross-tenant dashboard, enabling MSPs to build a robust threat detection and incident response offering with Vade for M365.
MSP Response centralizes your Vade for M365 tenants in a unified dashboard in the Vade Partner Portal. It features a simplified interface that includes critical email log data, user-reported emails, and one-click remediation capabilities.
Triage and respond to user-reported emails
Get a cross-tenant view of all emails reported as junk or phishing by your end users. Reported emails solves the time-consuming task of reviewing and remediating emails from Microsoft Exchange, enabling admins to save time, accelerate response, and improve your clients' security.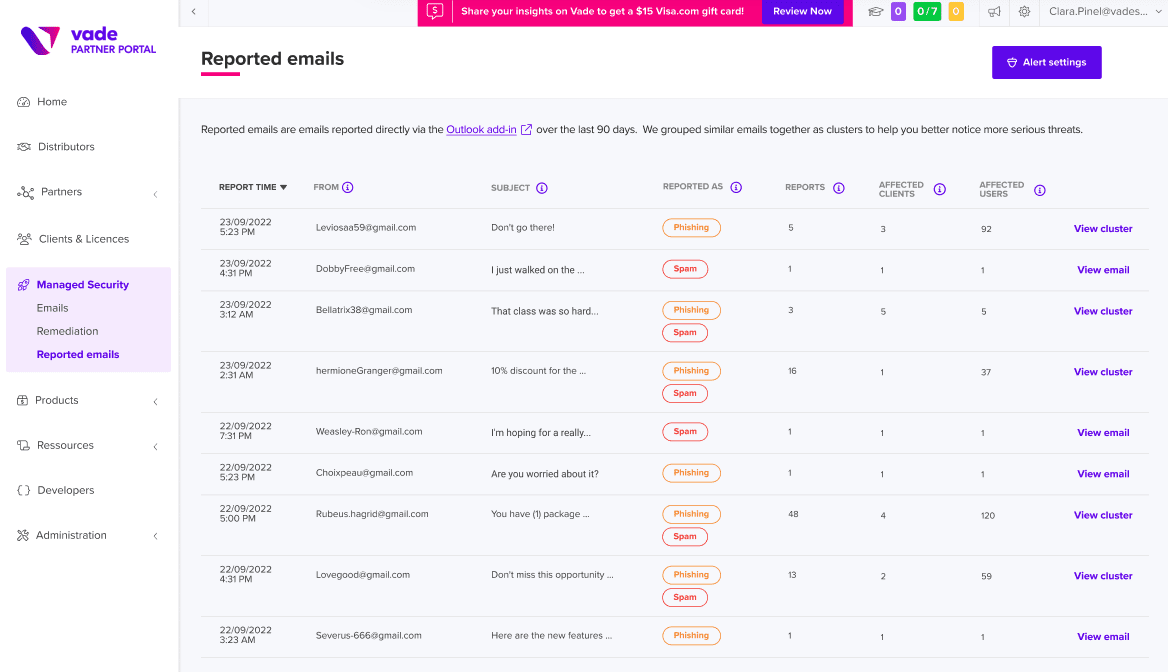 Cross-tenant incident response features
Remediate emails across your client base
Manage user-reported emails from a central location
Identify threats across Vade for M365 tenants
Deliver managed services from a unified dashboard
Key benefits of MSP Response for MSPs
Build a scalable managed security service with a single solution.

Reduce time to respond to innovative, emerging threats.

Holistic view of cybersecurity across your client base.

Free up valuable IT resources with a low-touch solution.

Integrated in the Vade Partner Portal


*Partner Access must be activated.
Microsoft 365 is the #1 corporate target for cyberattacks, but EOP is obsolete and Defender for Office 365 is not enough to block advanced threats. Discover why MSPs choose Vade for M365, a collaborative email security solution for Microsoft that is powered by AI, enhanced by people, and made for MSPs..
Get a demo
See a demo of Vade for M365 to see how it can help you scale managed security services.