Reporting malicious emails is critical to the overall security of an organization. Security awareness training will help staff recognize email threats, but getting staff to actually report them to IT is another matter.
For staff who get dozens—even hundreds—of emails per day, it's tempting to simply delete unwanted and even malicious emails. Many users simply aren't sure if a message is a threat like phishing or spear phishing, while others might find it a hassle to send that email to IT.
What both groups might not know is that reporting a malicious email has the potential to improve the efficacy of their email filter and prevent malicious emails from being delivered in the future.
The Vade Secure Feedback Loop
Vade Secure for Office 365 users now have a quick and easy way to report email threats or suspicious messages directly to Vade Secure. Because the product is natively integrated with Office 365 via API, the Outlook Junk and Phishing buttons create a direct feedback loop to Vade Secure's SOC and ultimately, AI engine.
By clicking the Junk or Phishing button in Outlook, users are sending critical information that our team can use to improve the filter. When our SOC receives a report, they analyze the email and use the data to create new heuristic rules for our AI engine.
This prevents the reported email—and others like it—from landing in more user inboxes and threatening your business. Additionally, when a reported threat meets a certain threshold—a number of reports about the same threats—it will trigger the Auto-Remediate feature in Vade Secure for Office 365. If the reported phishing email was delivered to other users, Auto-Remediate will automatically remove it from user inboxes.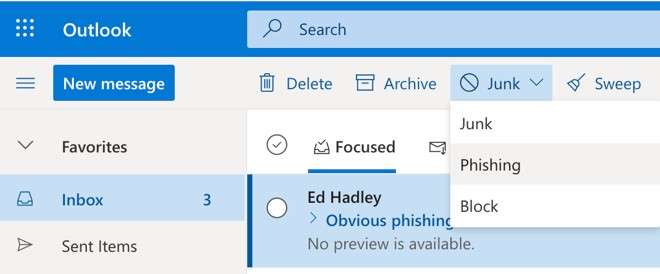 The Feedback Loop enables users to become part of the process of protecting not only their own Office 365 account but the entire business—not to mention 600 million users around the world protected by Vade. Knowing their feedback is providing critical threat intelligence empowers them to participate and encourages them to report.
The Junk and Phishing buttons are available by default in the Outlook web client and can be enabled via the Report Message add-in for the desktop client.
Reinforcing cybersecurity awareness
The daily demands of work can cause even good staff to practice poor cyber hygiene—like clicking Delete rather than reporting an email threat. To keep email security top of mind, and to encourage your staff and clients to report email threats to Vade Secure, we've created an infographic you can share with your clients and post in your workspace.