Starting and Scaling Your MSP Business: New Quick Start Guide
Todd Stansfield
—
August 15, 2023
—
2 min read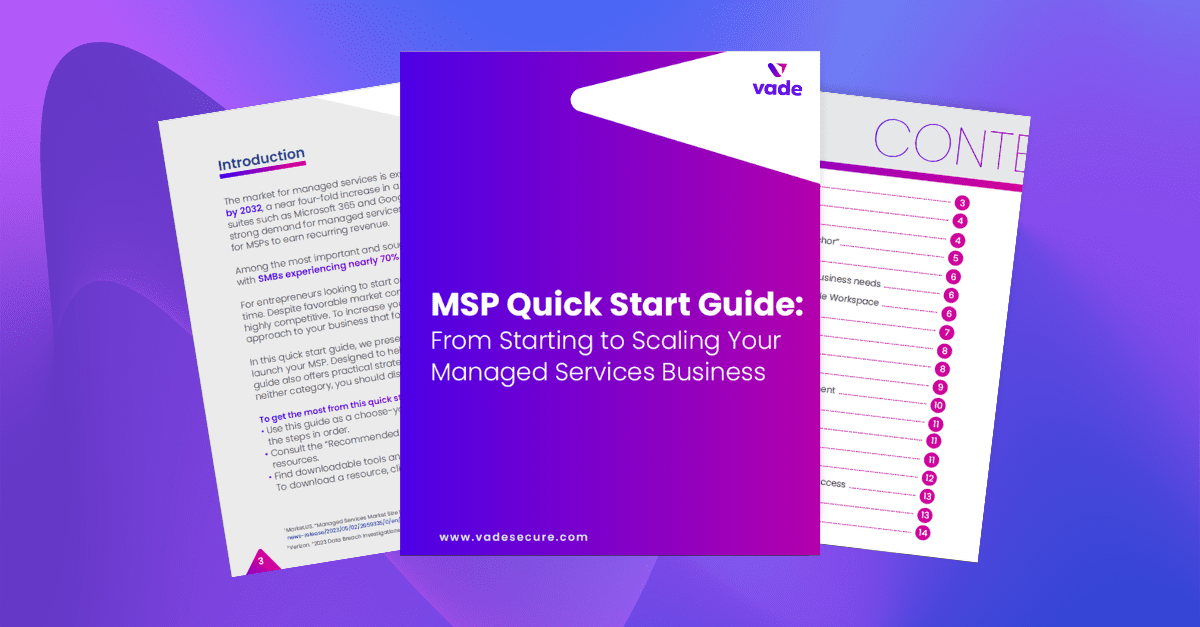 For entrepreneurs looking to start or scale their MSP business, the time is opportune. The global market for managed services is expected to reach $837 billion (USD) by 2032, a near four-fold increase in a decade. The growing popularity of Microsoft 365 and Google Workspace has created strong demand for managed services and opened new opportunities for MSPs to capitalize.
Yet starting and scaling any business, not to mention an MSP, is a challenging endeavor. There's no shortage of obstacles that complicate your life as a founder—from setting the right strategy, to hiring qualified talent, to developing a viable business model, and more.
Fortunately, our new quick start guide provides a practical framework designed for MSP founders, seasoned entrepreneurs, and everyone-in-between. The guide provides tips and resources to help you build a reliable, predictable, and scalable MSP business.
Here are five important topics the guide covers.
1. Selling services through a bundled model
The best way to invite scrutiny over your pricing and value as an MSP? Selling services a la carte.
On the other hand, the most effective route for earning client satisfaction and trust, while generating a healthy profit margin? Selling services through a bundled model.
If you're a new MSP, you may not know where to start when it comes to bundling services. Discover how to get started with the right strategy that can grow your book of business and standardize every aspect of your operation.
2. Structuring your MSP business to scale
Depending on your background—whether a seasoned IT professional or entrepreneur with no technical expertise—how you structure your business matters. This includes who you hire and how you price out their role(s).
Who should you hire first? When should you bring them on board? And when should you look to add to your headcount?
Find answers to these questions and more guidance on structuring your MSP business.
3. Planning the tech stack for your MSP business
Your tech stack drives your productivity and security—not to mention your clients'. That may explain why assembling the right tech stack is no easy task—even for the technically proficient.
For example, how do you choose a tech stack that accommodates different needs across your client base, while ensuring you can stick to a bundled offering? Which solutions are required, and which are optional in today's threat landscape?
Discover answers and best practices for building your tech stack. You'll also learn how to develop tiered packages for your offering and conduct an initial assessment that qualifies prospects effectively.
4. Building your sales engine
Increasing sales is the universal need of every MSP. It's also a constant challenge as long as your business exists.
Yet the exact path to maximizing sales depends on the maturity of your business. For new MSPs, you should focus on building your book of business. For established MSPs, you should concentrate on accelerating sales so you can scale.
Discover the right customer acquisition strategy no matter your business stage. You can also take advantage of recommended and downloadable resources.
5. Protecting your MSP with the right email security
Building and scaling your MSP business is only part of your responsibility. The remainder involves protecting its continuity. With email threats posing the greatest risk to your cybersecurity, you need to find and adopt the right email security solution—one made for your unique needs.
With dozens of solutions available and many conveying similar marketing messages, how do you know what to look for? What attributes do you and your clients need?
Gain insight into must-have features and functionality that can help you evaluate and compare solutions. You'll also find a digestible table, plenty of guidance, and a downloadable checklist to help you during your buying process.
Take control of your MSP business
As an MSP founder, there's no shortage of challenges you must endure and overcome. Yet when armed with the right strategy and information, you can grow your business far more effectively—and with less difficulty.
To get help building and scaling your MSP—whether new or established—download our new quick start guide.
Subscribe to our Newsletter