4 Vade for M365 Features That Help MSPs Sell Email Security
Adrien Gendre
—
April 13, 2023
—
3 min read
In the past, convincing SMBs that they were vulnerable to cyberattacks proved challenging, but not quite as difficult as convincing them to invest in more cybersecurity.

With SMBs experiencing more than twice the number of cyberattacks and data breaches as large enterprises, that sentiment has clearly changed. Ninety-two percent of SMBs now express a desire for MSP recommendations on email security. To make the most of new sales, MSPs can take advantage of four features that reveal the full value of Vade for M365 during the trial period.
Monitoring Mode limits risks for SMBs
While Protection Mode activates all filtering capabilities for Vade for M365, Monitoring Mode monitors analyzes email traffic but does not take any actions on emails, reducing potential of priority emails being blocked or misclassified.
For risk-averse SMBs who have concerns about giving sweeping permissions to an email security solution that is new to their environment, Monitoring Mode is a big selling point. As an MSP, it gives you the opportunity to prove the efficacy of the solution while offering your clients a risk-free trial.
If you're an MSP that offers a single, standardized security stack to all clients, you can use Monitoring Mode during the initial deployment to ensure that everything runs smoothly and then switch to Protection Mode to get the full experience.

MSPs can easily switch from Monitoring to Protection Modes during POC
The Added Value report demonstrates Vade's catch rate vs EOP
Against today's advanced and dynamic email-borne threats, Exchange Online Protection (EOP) leaves SMBs vulnerable to compromise. Still, nearly eight in 10 SMBs report using the basic email security solutions built-in to productivity suites like Microsoft 365. To demonstrate how many threats EOP missed, you can quantify Vade's catch rate against EOP with the Added Value report.
Available in both Monitoring and Protection Modes, the Added Value report is a live benchmarking report that shows the value of layering Vade for M365 with EOP. Showing your clients the threats Vade caught and Microsoft missed sends a powerful message to SMBs that think they are being protected. The Added Value report is also an effective tool during renewal conversations, as it shows the ongoing ROI of the solution.

The Added Value report reveals the threats Vade caught and Microsoft missed
Vade Threat Coach delivers automated phishing awareness training
Unlike generic phishing simulations built from templates, Vade Threat Coach™ uses real phishing emails captured by Vade to train users. If an employee clicks on a phishing email, they are invited to take a brief quiz comprising a series of questions designed to gauge their phishing awareness. Training content is automatically generated based on the brand in the phishing email the user interacted with. This provides a personalized experience that improves learning retention and application.
Users are guided through the questions and asked to identify spoofed email addresses, phishing emails, and phishing webpages. For the MSP, Threat Coach™ shows the added value of their security offering. For an SMB, it offers a non-intrusive method of user training that is delivered at the moment of need rather than on a training schedule.

Vade Threat Coach
Logs and reports reveal the email attacks transiting through your clients' email
Throughout the trial, you should share with your clients the threats that are transiting through their email. In Vade for M365, you can view your clients' email logs to track emails classified as phishing, malware, spam, or spear phishing. Depending on the length of the trial, you should check in with your client frequently to report on the email threats detected—but not removed—by Vade during Monitoring Mode.
While the Email Logs reveal all emails classified by Vade, the Threat Dashboard provides a more holistic view of threats received, which provides insight into the types of attacks hackers are using to target your clients.
Like the Added Value Report, the Email Logs and Threat Report are a powerful way to help your clients understand the reality of the threats they're receiving. Reports can be scheduled and sent to multiple recipients, keeping the value of the solution top of mind for clients and stakeholders. Additionally, they reveal which users are being targeted in email attacks, which will help you and your clients identify users who need additional training.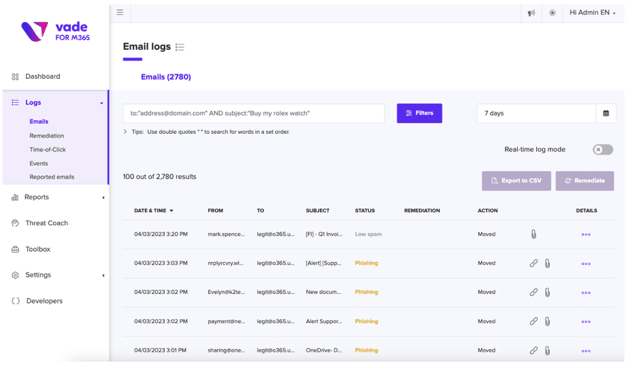 Email logs reveal email senders and recipients, as well as the subject lines of malicious emails.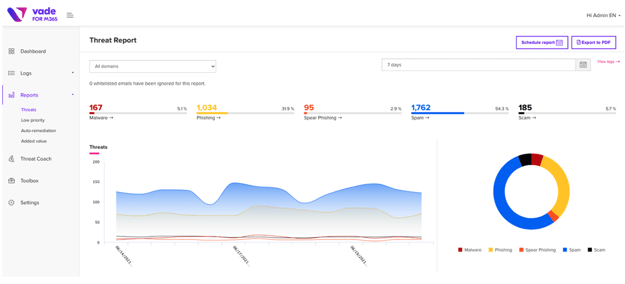 MSP can easily export the Threat Report to share with clients during POC.
Other features of the Threat Report include charts that MSPs can use to educate their clients about the types of threats targeting their businesses, including total amount and percentage of phishing, malware, and spear phishing emails, as well as the spear phishing typologies targeting users.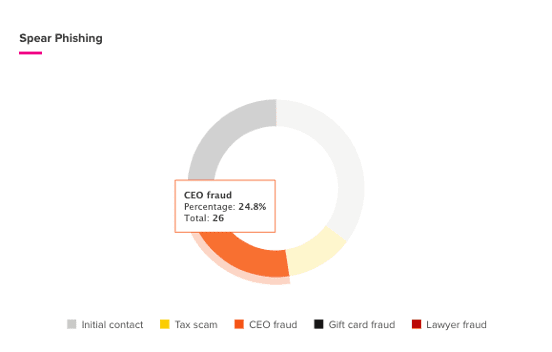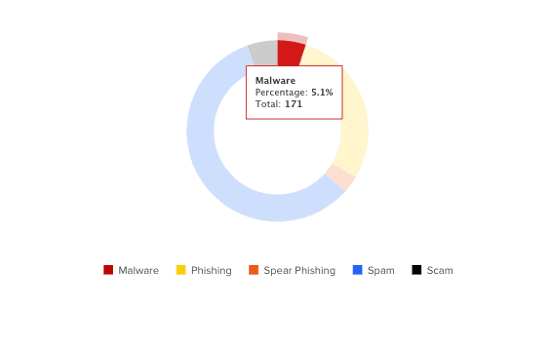 Ensuring a successful trial
It's important for SMBs to understand what to expect during the trial. Setting expectations upfront will help mitigate any unwelcome surprises along the way. For example, the timeframe for the trial should be agreed upon before the trial, but your clients should be aware that it could be extended for additional data gathering if necessary.
If you're new to Vade for M365, Vade can assist during trials until you're proficient with the solution. Additionally, you can launch 7-day free trials from our Partner Portal and instantly convert them to production licenses. To learn more about partnering with Vade, visit our partner page for more resources.
Subscribe to our Newsletter