Vade Named Winner of the Global InfoSec Awards During RSA 2023
Vade
—
April 24, 2023
—
2 min read

Vade Wins Editor's Choice Anti-Phishing In 11th Annual Global InfoSec Awards at #RSAC 2023
SAN FRANCISCO–APRIL 24, 2023–Vade is proud to announce that is has won the following award from Cyber Defense Magazine (CDM), the industry's leading electronic information security magazine:
Editor's Choice Anti-Phishing
"We're thrilled to receive this coveted award from Cyber Defense Magazine. Phishing remains the most common cyberthreat and a leading source of compromise for businesses and individuals. To earn recognition in this category—from leading infosec experts across the world—is a true reward to the focus operated by our researchers, engineers & threat analysts. As a team, we are committed to developing cutting-edge cybersecurity solutions that keep our clients one step ahead of their adversaries," said Adrien Gendre, Chief Product and Technology Officer of Vade.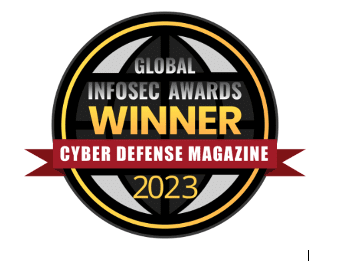 "Vade embodies three major features we judges look for to become winners: understanding tomorrow's threats, today, providing a cost-effective solution and innovating in unexpected ways that can help mitigate cyber risk and get one step ahead of the next breach," said Gary S. Miliefsky, Publisher of Cyber Defense Magazine.
To learn more about the award, visit: http://www.cyberdefenseawards.com/.
About Vade
Vade is a global cybersecurity company specializing in securing human collaboration. Vade's products and solutions protect consumers, businesses, and organizations from email-borne cyberattacks, including malware/ransomware, spear phishing/business email compromise, and phishing.
Founded in 2009, Vade protects more than 1.4 billion corporate and consumer mailboxes and serves the ISP, SMB, and MSP markets with award-winning products and solutions that help increase cybersecurity and maximize IT efficiency.
To learn more, please visit www.vadesecure.com and follow us on Twitter @vadesecure or LinkedIn https://www.linkedin.com/company/vade-secure/.
About CDM InfoSec Awards
This is Cyber Defense Magazine's tenth year of honoring InfoSec innovators from around the Globe. Our submission requirements are for any startup, early stage, later stage, or public companies in the INFORMATION SECURITY (INFOSEC) space who believe they have a unique and compelling value proposition for their product or service. Learn more at www.cyberdefenseawards.com
About the Judging
The judges are CISSP, FMDHS, CEH, certified security professionals who voted based on their independent review of the company submitted materials on the website of each submission including but not limited to data sheets, white papers, product literature and other market variables. CDM has a flexible philosophy to find more innovative players with new and unique technologies, than the one with the most customers or money in the bank. CDM is always asking "What's Next?" so we are looking for best of breed, next generation InfoSec solutions.
About Cyber Defense Magazine
Cyber Defense Magazine is the premier source of cyber security news and information for InfoSec professions in business and government. We are managed and published by and for ethical, honest, passionate information security professionals. Our mission is to share cutting-edge knowledge, real-world stories and awards on the best ideas, products, and services in the information technology industry. We deliver electronic magazines every month online for free, and special editions exclusively for the RSA Conferences. CDM is a proud member of the Cyber Defense Media Group. Learn more about us at https://www.cyberdefensemagazine.com and visit https://www.cyberdefensetv.com and https://www.cyberdefenseradio.com to see and hear some of the most informative interviews of many of these winning company executives. Join a webinar at https://www.cyberdefensewebinars.com and realize that infosec knowledge is power.
Vade Media Inquiries:
Merritt Group for Vade
Ashley Long
long@merrittgrp.com
CDM Media Inquiries:
Contact: Irene Noser, Marketing Executive
Email: marketing@cyberdefensemagazine.com
Toll Free (USA): 1-833-844-9468
International: 1-646-586-9545
Website: www.cyberdefensemagazine.com