5 Questions to Ask When Choosing an Email Security Solution
Adrien Gendre
—
May 25, 2023
—
4 min read
Email is a top attack vector and one of your clients' biggest points of vulnerability to cyber threats. If you're in the market for an email security solution, the good news is that you have lots of options. The bad news is that email security solutions vary widely in terms of efficacy and ease of use.

Often, small details and subtle features can make or break a security solution. This post will cover the five questions you should ask before choosing an email security solution for Microsoft 365.
1. Does the email security solution prioritize incident response?
Contrary to the marketing messages of some security vendors, no cybersecurity solution can detect 100% of threats. Staying protected requires the tools, technology, and visibility to respond with speed and precision to security events when they occur.

Most email security solutions, including Microsoft, make incident response time-consuming and complex. That's because they're designed with incident response as a secondary focus, which puts your MSP and clients at risk.
[Related Content] Microsoft Cybersecurity: Defending Your Top Vulnerability
Vade for M365 provides MSPs with the threat intel and tools needed to create an enhanced incident response service. It also allows you to respond faster and with more precision to threats in your clients' networks, including those that have been reported by users or forwarded to other recipients. Key incident response features of Vade for M365 include:
Cross-tenant user-reported emails triage and remediation

.

Offers a cross-tenant, aggregate view in a single dashboard. MSPs can triage and remediate user-reported emails and similar, unreported emails across tenants in a few clicks, saving time and improving client security.

File Inspector

.

Helps admins understand how attacks are built, helping them better anticipate future attacks. It reveals malicious characteristics and code in PDF and Office documents. You can use evidence collected by File Inspector's file and attachment analysis to cross-check threats, including malware code and suspicious links, and determine whether they have spread to other areas of a network. You can also upload suspicious files to File Inspector to analyze them.
Email logs. Provides real-time, data-rich email logs to investigate threats across your networks. You can also integrate Vade for M365 email logs with your SIEM, XDR, or EDR to converge email and other endpoints under a single pane of glass.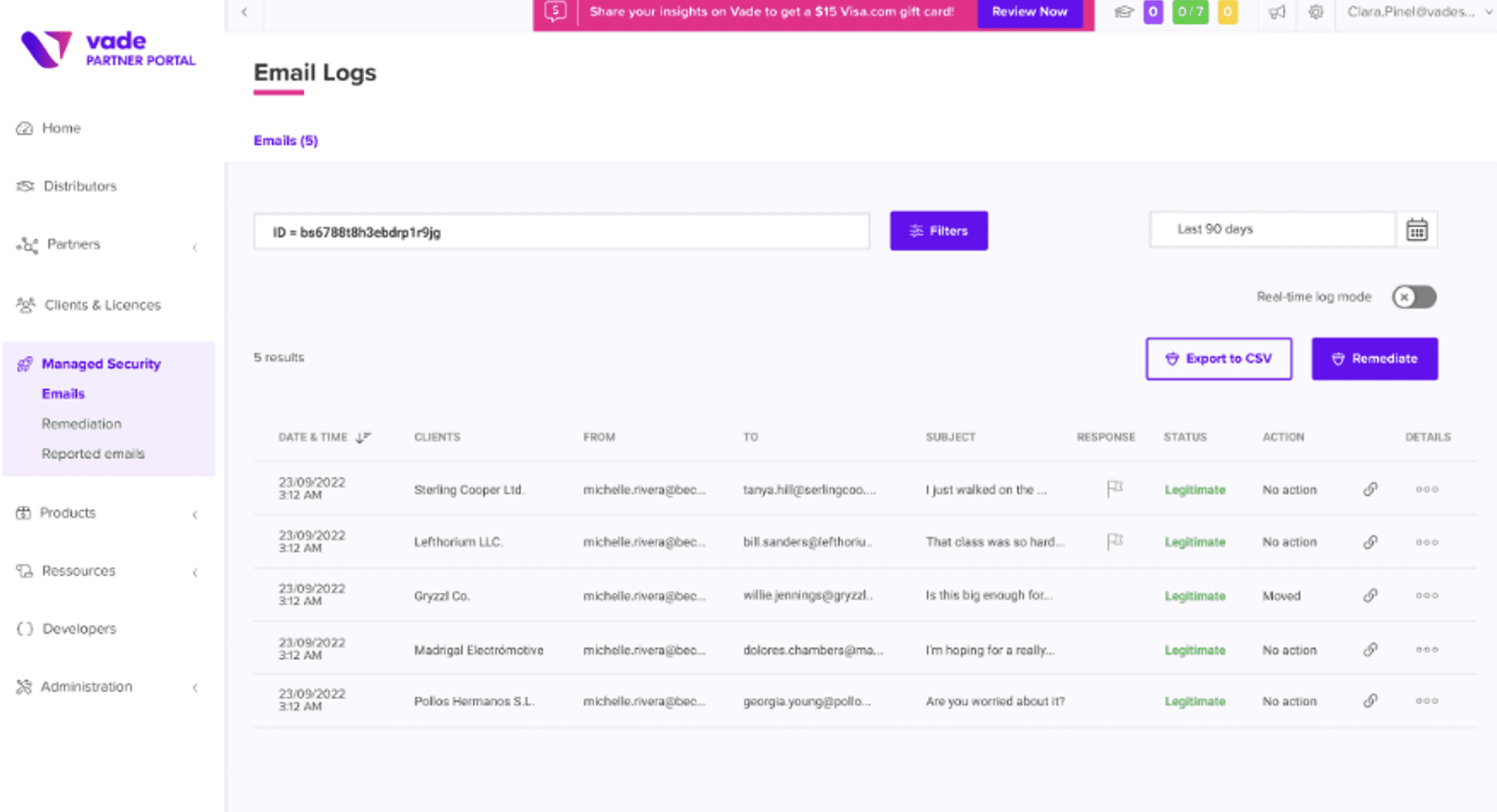 Email logs in Vade Partner Portal
2. Does it offer advanced threat detection?
MSPs and SMBs need the ability to filter advanced and dynamic threats, including sophisticated phishing, spear-phishing, and malware attacks. This is especially true considering that hackers are using legitimate services to add an air of legitimacy to their attacks and distribute threats more efficiently and effectively.
[Related Content] New Phishing Attack Leverages Google Translate and IPFS Decentralized Network
When evaluating solutions for their detection capabilities, consider three factors: AI algorithms, email traffic, and human inputs.
AI Algorithms should use a blended mix of AI models that can filter every all types of email-borne threats and evasion techniques. This includes Machine Learning, Natural Language Processing, and Computer Vision.
Email traffic data is used to teach AI algorithms to recognize the patterns and behaviors of known and unknown threats. That's why this traffic must come from a large, representative, and current sample.
Human inputs are needed to enhance the precision and accuracy of AI models. This includes contributions from cybersecurity analysts, data scientists, and users. In fact, users are an important source of new threat intelligence since they regularly interact with potential threats.
Vade for M365 blocks and remediates advanced email threats with a collaborative AI engine that catches what Microsoft misses. Vade's email footprint of 1.4 billion mailboxes is second only to Google, making our AI engine the most intelligent email filter on the market.
The AI engine is continuously trained and fine-tuned with data from email traffic, millions of user reports, and a combination of Machine Learning, Natural Language Processing, and Computer Vision models. This enables Vade for M365 to catch 10x more advanced threats than Microsoft.

Vade's Added Value Report, which details the threats caught by Vade that Microsoft missed

3. Does it offer continuous protection?
Every day, approximately 450,000 new malware variants are introduced by hackers. As cybercriminals continue to engineer new attacks and threats, organizations need countermeasures that can anticipate and neutralize emerging threats.
When evaluating solutions, look for those that not only provide automated, ongoing protection, but continuously improve and adapt to the new threat landscape.
Vade's Auto-Remediate feature continuously scans email after delivery and automatically removes messages from users' inboxes when new threats are detected. Admins can also manually remediate messages with one click.
Auto-Remediate is updated from new intelligence from more than 1.4 billion protected mailboxes, millions of user reports, and the contributions of our cybersecurity analysts.
Vade also leverages a continuous improvement loop. In addition to the intelligence gathered from email traffic, this improvement loop relies on users. Users receive personalized and automated phishing awareness training every time they encounter a threat. This education continuously updated to reflect users' email interactions and the latest threat intelligence.
The training is also reinforced by Reported emails, a feature that allows users to report suspicious emails, allowing them to actively apply their learning and become more cyber vigilant.
[Related Content] Why Users Should Report Suspicious Emails, and How to Manage Them When They Do
4. What's involved in setting it up?
When it comes to cybersecurity, time-intensive and complex solutions only aid hackers. These solutions can lead to misconfigurations that leave your business unprotected. If they require you to create time-consuming automation workflows or playbooks, they can delay the security you need now.
With Vade for M365, deployment takes minutes with set-it-and-forget configurations. This is different from Microsoft Exchange Online Protection (EOP) and Defender, which can be highly complex and time-consuming. For example, unlike EOP and Defender, Vade's Auto-Remediate and Threat Intel & Investigation (TII) features don't require you to create scripts or complicated and time-intensive automation workflows.
5. Is it easy to use?
Ease of use is critical for MSPs and SMBs that need protection, while freeing up time and resources to concentrate on running their business. That's why you should look for solutions that allow you to spend less time on email security, not more.
Vade for M365 makes the job of email security simple and easy for MSPs and SMBs. The solution automatically remediates threats post-delivery and administers personalized phishing awareness training (Threat Coach™) to users. From the moment a user receives a threat to the remediation action, Vade for M365 also gives your team what it needs to investigate and respond in only a few clicks.
For MSPs, Vade for M365 also centralizes your tenants in one unified dashboard, where you can remediate email threats across tenants, triage and remediate user-reported emails, and manage your clients' cybersecurity from a central location.
Choose the right email security solution
EOP and Defender are not enough to keep you protected. They're also not designed with MSPs in mind. As you consider your options, it's worth asking these five questions to achieve maximal security with minimal effort.
To help your search for a new solution, download the following checklist.
Subscribe to our Newsletter